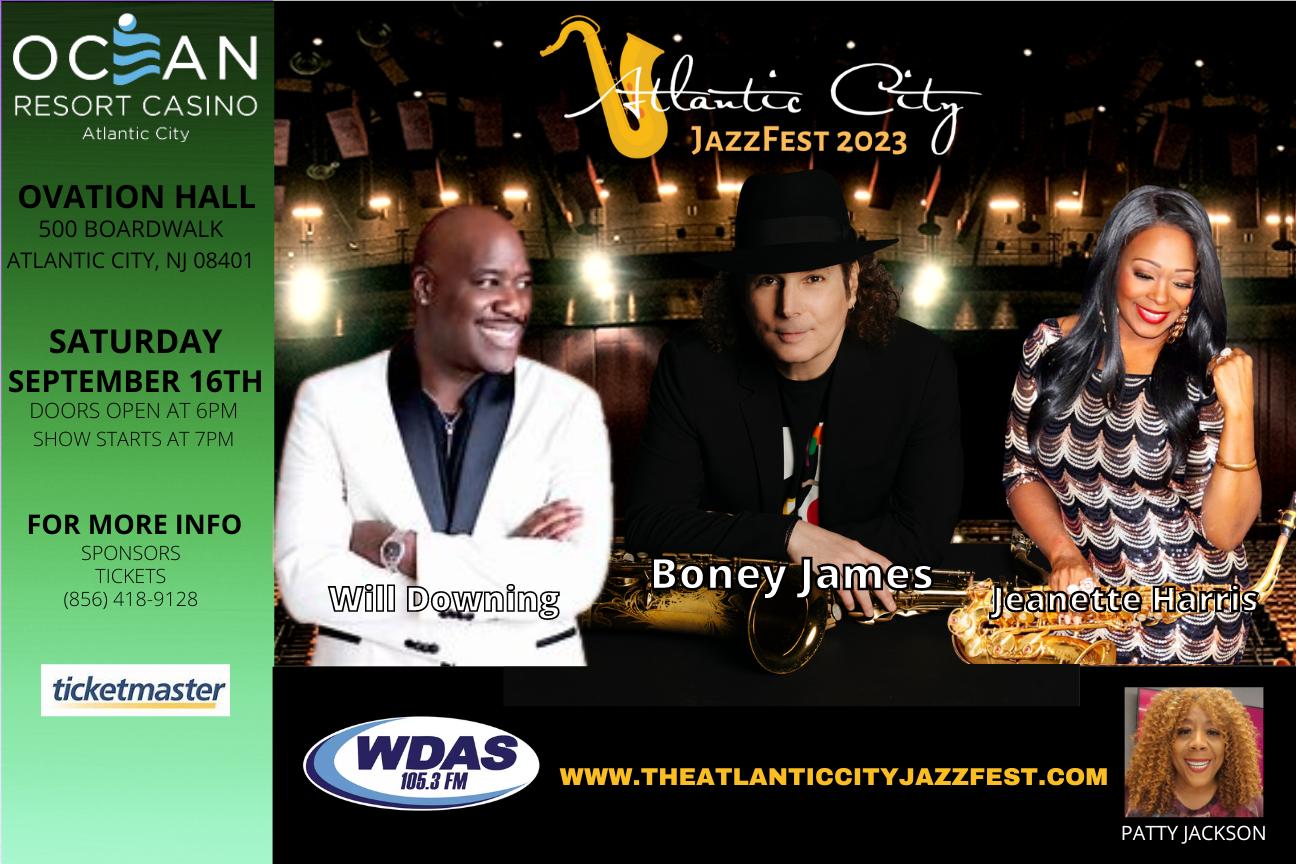 Annual Atlantic City Jazz Fest returns to Ocean Resort Casino's Ovation Hall Saturday September 16th.
We are excited to announce that BONEY JAMES is our headliner with Special Guest Will Downing, also appearing is Jeanette Harris. Hosted by Patty Jackson(WDAS Philadelphia Pa.) 

The 
Suites, Tables
 and Tickets 
will be on sale 
with a 
pre-sale on April 17
th
 for
those with the 
special code (ACJF23
)
.
Tickets
 will go on sale to the general public
on April 21th.
 Below
 are the prices and fees for
 the
 Ocean Box office and
Ticketmaster. For
t
hose interested in purchasing at the Ocean Box office 
below
 is
the address and hours of 
operation. For
 those 
needing 
assistance with Box Office
purchases please email 
or call us at:
Theatlanticcityjazzfest1@gmail.com
  or (856) 418-9128
Box Office Number 609-783-8866 
Summer Days of Operation will be Thursday – Sunday
Box Office Pricing including tax and fees
:
Tables: 
$691.
80
(
$600
base table,
 $16.00 facility fee, and $75.80 taxes)
Price Level 1
: $144.79
($
125 base ticket
, $4.00 facility fee, and $15.79 taxes)
Price Level 2: 
$116.63 
($
100 base ticket
, $4.00 facility fee, and $12.63 taxes)
Price Level 3: 
$99.47 
($
85.00 base ticket
, $4.00 facility fee, and $10.74 taxes)
Price Level 4:  $
77.21 
($
65.00 base ticket
, $4.00 facility fee, and $8.21 taxes)
VIP Box B: 
$4,548.06 
($
3,960 base box price
, $88.00 Facility Fee, and $500.06
taxes)
VIP Boxes C & D: 
$3,514.41 
($
3,060 base box price
, $68.00 Facility Fee, and
$386.41 taxes)
Ticketmaster Pricing including tax and 
fees
Tables: $750.60 ($600 base table, $54.80 Service Fees, $16.00 facility fee, and $4.00 Order Processing Fee, $75.80 taxes) 
Price Level 1: 
$161.89 
($
125 base ticket
, $13.10 Service Fee, $4.00 facility fee,
$4.00 Order Processing Fee, and $15.79 taxes)
Price Level 2
: $133.13 
($
100 base ticket
, $12.50 Service Fee, $4.00 facility fee,
$4.00 Order Processing Fee, and $12.63 taxes)
Price Level 3:  
$115.89 
($
85.00 base ticket
, $12.15 Service Fee, $4.00 facility fee,
$4.00 Ordering Processing Fee, and $10.74 taxes)
Price Level 4:  
$92.86 
($
65.00 base ticket
, 11.65 Service Fee, $4.00 facility fee,
$4.00 Order Processing Fee, and $8.21 taxes)
VIP Box B: 
$4,869.96 
($
3,960 base box price
, $317.90 Service Fee, $88.00 Facility
Fee, $4.00 Order Processing Fee, $500.06 taxes)
VIP Boxes C & D
:  $3,764.06 
($
3,060 base box price
, $245.65 Service Fee, $68.00
Facility Fee, $4.00 Order Processing Fee, $386.41 taxes)